Despite everything that is so wrong about it, I still like the All-Star Game. Maybe it's the fan in me that still remembers the 1987 game, when Seattle's Mark Langston came on and pitched two perfect innings with three strikeouts, causing Vin Scully to exclaim something like, "This kid is something else!"

Every fan of every team has a memory like that. Maybe it's Hank Blalock ruining Eric Gagne's perfect season in 2003 with his pinch-hit, go-ahead two-run homer in the eighth inning. OrGeorge Sherrill's 2 1/3 scoreless innings for the AL in the 15-inning marathon in 2008. OrCarl Crawford's defense in 2009 that snared him MVP honors.


Is it a glorified exhibition game? Or a game that is supposed to matter? It's both, of course, and while that isn't a clear answer, it's what we have.

I do know this: I'm going to do a running diary of the game.

Pregame introductions

Random notes from the most underrated part of the All-Star broadcast -- the opportunity to see who is the Royals representative this year.
Nice ovations for White Sox Paul Konerko, from Scottsdale, and Carlos Quentin, who began his career with the Diamondbacks. And you thought Diamondbacks fans don't know their baseball.
Cliff Lee manages to not smile during pregame warmups. This is just slightly less shocking than Derek Jeter sending out a Tweet that says, "Actually, I just wanted to spend a few days in Atlantic City."
The Dodgers are so irrelevant, the fans can't even muster up the energy to boo a division rival. The Giants players get booed loudly, however, although not as loudly as the Yankees players.
Tyler Clippard? Who let my accountant into the All-star Game?!?
I'm happy for AL starter Jered Weaver, who has been underrated throughout his career, had a great season last year that went largely unrecognized and has arguably outpitched Justin Verlander this year only to see Verlander get much of the attention.
First inning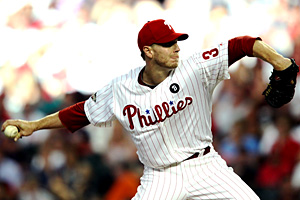 Christian Petersen/Getty ImagesStarter Roy Halladay pitched two innings of shutout ball and didn't allow a hit while striking out one.

Asdrubal Cabrera goes down on strikes. Jeter could have done that and it would have been more controversial!

Fox shows Brian Wilson introducing some of the NL lineup. For Carlos Beltran, he mentions trade rumors involving the Giants and the Mets right fielder. "Come on over," Wilson says. I think he just got fined $100,000 for tampering.

Second inning

Jose Bautista swings at the first pitch and pops out to shallow center field.Josh Hamilton grounds softly to third base. Joe Buck goes back to Bautista and points out that Bautista was with five organizations in June of 2004. Adrian Beltre flies to deep right on a 2-2 pitch. Roy Halladay's half innings don't last as long as the commercial breaks.

Red Sox Nation just had a collective heart attack when Buck announced Josh Beckett was supposed to enter in the bottom of the second inning but tweaked his knee warming up. AL skipper Ron Washington is forced to bring in Yankees reliever David Robertson.

My question: Why couldn't Weaver go two innings? Back in the day, All-Star starters were MEN and pitched THREE innings. I blame the parents.

With one out, Lance Berkman singles sharply up the middle. I'm enjoying Berkman's bounce-back season. ("Comeback" doesn't seem quite like the right word.) Berkman's been a terrific player for a long time, never quite recognized as a superstar by the mainstream media, even though he was on that level. He seems to be getting more attention this year than ever before. Funny how baseball works sometimes.

Tim McCarver just tried to compare Robertson to Mariano Rivera.

Matt Holliday takes a 3-2 fastball down the middle and Berkman slides off the bag on a stolen base attempt for a double play. You know there isn't much offense anymore in baseball when Berkman is running in an All-Star Game. He had zero steals on the season. Robertson has one of the best K rates in the majors, so either Bruce Bochy just made one of the worst decisions in All-Star history or Berkman decided to go on his own. I'm 99 percent sure Berkman is probably to blame.

Third inning

After Lee cruises through a 1-2-3 third, Michael Pineda comes on. Not sure it's a good sign for the AL that its second and third pitchers used are guys who weren't on the roster. (Not that Robertson and Pineda are slouches. By the way … I wonder if Rafael Soriano is watching the game.) As a Mariners fan, this is where you hope your guy isn't the one to blow it. For most of the country, I'm sure it's the time they're seeing the big rookie pitch. He's calm and cool, and blows away Scott Rolen and Rickie Weeks with nasty sliders. As Vin Scully might say, "This kid is something else!"

Fourth inning

Hunter Pence and Justin Upton enter. Glad to see Holliday and Berkman made it through three innings. Maybe Bochy is a little ticked at that botched hit-and-run.

Adrian Gonzalez breaks up the NL's perfect game with a two-out home run to right-center. That equals the number of runs Lee allowed all of June. After Prince Fielder misplays Bautista's pop-up into a single, Hamilton singles to center. Bochy goes to the pen to bring in Nationals reliever Clippard to face Beltre. This could be one of the key at-bats of the game. So Buck decides he needs to thank Brad Pitt for narrating the opening of the broadcast.

Beltre lines a sharp single to left, Pence rifles a perfect throw to nail Bautista easily at the plate. Pence, by the way, has never played left field in the majors. Cheer proudly, Astros fans. I'd make a joke how that could be the highlight of their season, but I don't think that's really a joke.



[+] Enlarge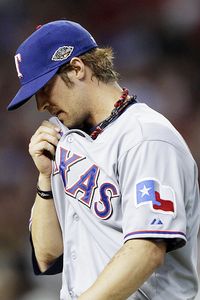 AP Photo/David J. PhillipC.J. Wilson is the losing pitcher after giving up a three-run blast to Prince Fielder.

C.J. Wilson enters for the AL. I think Washington should try and get two innings out of one of these starters. His watered-down pitching isn't as deep on paper as the NL staff and the more pitchers he uses the more likely one of them will blow up.

Beltran reaches on an infield hit to Cabrera and Matt Kemp lines a single to left to put two on with no outs for Fielder and Brian McCann. Wilson is tough on lefties, so he's still a good bet to escape the jam. Yes, that's a prediction.

Well, I was wrong. Prince blasts a home run off the top of the wall in left-center. I think his free-agent contract this winter just went up another $5 million. Wilson had allowed two home runs to left-hander in 253 at-bats over the past two years. Credit for Prince for a terrific at-bat. No offense to Wilson, who is a good pitcher, but the "Sunday rule" needs to go. No Verlander, noCC Sabathia, no Felix Hernandez, no James Shields for the AL. But the game counts!

Fifth inning

Angels rookie Jordan Walden gives up a run on Andre Ethier's RBI single. NL takes a 4-1 lead. It's going to be tough for the AL to come back in this one. Since Bochy was actually trying to, you know, win the game, he used Halladay and Lee for 11 outs. He has Clayton Kershaw and then Jair Jurrjens for the fifth and sixth innings and then he'll be able to mix and match his relievers over the final three innings as needed to get the best matchups. Big strategic edge in this one to Bochy, although to be fair he had more horses to work with than Washington.

Sixth inning

Jurrjens sails through the top of the sixth. In the bottom of the frame, Yadier Molina hits a two-out double off his former battery mate, Chris Perez. Now that's the All-Star matchup fans were waiting to see.

Seventh inning

Bochy still has Jonny Venters, Craig Kimbrel, Heath Bell, Joel Hanrahan and Wilson available to him, with starters Tim Lincecum, Kevin Correia and Ryan Vogelsong available if the game goes extra innings. It will be interesting to see if Bochy saves his own guy Wilson for the ninth, considering his struggles of late -- he's allowed runs in four of his past six appearances.

Bochy ends up leaving Jurrjens in for a second inning, with Braves teammate Kimbrel warming up. Love Bochy's handling of his staff in this game. After Kevin Youkilis singles with two outs, Konerko is announced as the pinch-hitter for David Ortiz. Bochy goes to the pen to bring in Kimbrel. Of course, it would actually make more sense to leave in Ortiz to face Jurrjens or Kimbrel, both righties. But of course, Washington is more concerned with getting everybody in the game instead of winning. At least it's just a glorified exhibition game.

Commerical airs for the "Moneyball" movie out in September. I can't wait to see who playsJeremy Giambi.

Kimbrel walks Konerko on a 3-2 slider. You're up three runs. You throw 98. Hmm. Kendrick up as the tying run. Good thing Robinson Cano isn't in the game anymore. Kendrick fouls off a couple two-strike pitches before bouncing out to second.

Here's what I hate about the way managers manage the All-Star Game these days. They have the starters and then the backup at each position. The starters get their two at-bats and then in come the backups. I'd leave the starters in longer, giving you more pinch-hitting options in the late innings. Yes, that may actually mean some of the players may not get into the game. Gonzalez and Bautista should get at least three at-bats -- if not more. They're the best hitters in the American League.

Brandon League is pitching and I'm getting bored. I look up the slowest player to ever steal a base in an All-Star Game. You won't believe this: It may be Berkman! He stole a base in 2002. He may not actually be the slowest; he does have 82 career steals after all. It could be Robert Fick, who stole a base in 2002 as well. And, yes, I just wanted to get Robert Fick into this writeup.

Eighth inning

I'm not sure if this string of AL pitchers is the least exciting group in All-Star history. In 1996, the AL used just five guys, but they were Charles Nagy, Chuck Finley, Roger Pavlik,Troy Percival and Roberto Hernandez. As a kid, I attended the 1979 contest in Seattle. The AL started Nolan Ryan, but then used Bob Stanley, Mark Clear, Jim Kern and Ron Guidry (for one out). By the way, the only other pitchers on that AL squad were Tommy John, Dave Lemanczyk, Sid Monge and Don Stanhouse. Wow, that has to be the worst All-Star pitching staff ever assembled.

Ninth inning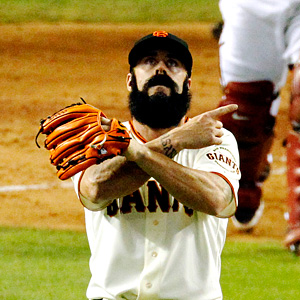 AP Photo/Ross D. FranklinThe American League threatened in the top of the ninth, but Brian Wilson came on for a two-out save.

Pirates reliever Joel Hanrahan in to close it out for the NL. He's 26-for-26 this season. Not bad for a guy once released by the Dodgers. Of course, Gagne was perfect in 2003! You never know! OK, I'm trying to act excited.Michael Young strikes out. Starlin Castro just bounces a throw in the dirt, allowing Quentin to reach base. Yes, that sums up the Cubs season pretty well. Matt Joyce singles to right on a 3-1 pitch, the NL throws the ball around like a bunch of Little Leaguers ... and Bochy goes to the mound! In comes The Beard!

Did I mention Wilson has allowed runs in four of his past six appearances? Yes I did! AL needs one runner to bring the tying to the plate. Of course, Michael Cuddyer then swings at the first pitch and flies to right field. Two outs. Konerko takes a strikes, misses a slider away, works the count to 2-2, fouls off a pitch and then grounds out to Castro, who makes the throw this time.

Yay, Cubs. Yay, Fielder, the obvious MVP. Yay, National League. Home-field advantage is yours. Let's hope we actually get a seven-game World Series this year.

And Clippard gets the win. Without retiring a batter. Put that one in the record books of the weird.