Sure, a save is sweet and all, but that meant two had to be sacrificed on tonight's
American Idol
.
Casey Abrams
benefited last week from the judges' belief that the competition wasn't ready to move on without him...but what if the voters begged to differ last night?!
More than 55 million votes were cast—that's 25 million more than last week and a record for this stage in the competition—in the hopes that the right nine would make it through the gauntlet Thursday.
Did the judges save Casey for nothing last week?
MORE: Idol contestants flee their haunted mansion
Nope! He sailed on through, with
Ryan Seacrest
telling him, "If you knew how many [votes] you got, you'd be very proud."
Instead, it was the end of the road for 16-year-old
Thia Megia
and 26-year-old
Naima Adedapo
—an end we admittedly saw coming a mile away.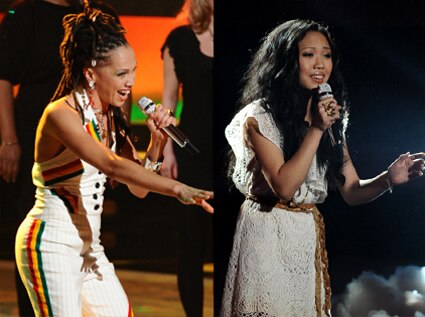 Michael Becker / FOX
Thia may have had her best showing of the season so far with "Daniel," but it was too little, too late on
Elton John
night, which was full of strong performances. And Naima's ouster was even less shocking, especially when you factor in the silly accent she affected for her reggae adaptation of "I'm Still Standing."
Sadly, she sounded better on her duet with
Jacob Lusk
tonight on
Ashford & Simpson
's "Solid" than she has since the live performances began.
But, boy, they aren't kidding when they tell you not to ever assume that your favorites are safe!
Paul McDonald
slipped through the cracks and into the bottom three this week after underwhelming with "Rocket Man." So, to all you Paul fans out there, don't turn your back on the sleepy voiced cutie next week if you want him to stick around!
The 26-year-old seemed more than a bit thrown when Ryan revealed that he, and not
Stefano Langone
, was joining Naima and Thia in the bottom three. But he survives to wiggle his way through another pop song next week.
WATCH: Casey redeemed himself with this performance