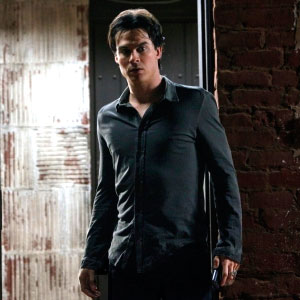 Quantrell Colbert/The CW
We don't use the term "OMG" very often, but hell, sometimes situations come along that warrant those three letters and an exclamation point.
OMG! Remember all those times we said that
Jonathan Groff
is popping back up on
Glee
this season? He's back in Los Angeles at this very moment, hanging out with
Lea Michele
and just being his angelic self. It's true, we saw them at dinner last night. More importantly, TVLine.com has more news on his return, and Finchel fans might want to brace themselves before checking out the scoop...
MORE: First Look at Wonder Woman in Action in Retooled Costume—Is It Any Better?
Sources tell
TVLine.com
that Jesse St. James is back to apologize to Rachel, and maybe even try to win her back. Not sure how he'll pull that off after the whole egging/switching teams fiasco last season. Then again, it's the Groff! Like we said, Jonathan has been spotted back in Los Angeles, so we could only assume he might be filming very soon. We leave you with this magical idea:
Darren Criss
/Jonathan Groff sing-off. Who wins?
The Vampire Diaries:
Executive producer
Julie Plec
went on a crazy
Twitter spree
, giving out spoilers, much to the delight of the fans. Among things revealed: another flashback is coming, Caroline is "probably safe" this season, we will meet Klaus in the April 21 episode, and Bonnie will be facing the most danger. Oh, and here are some
Damon
and
Stefan
promos to tide you over until the return of
TVD
. Eight more days!
The Good Wife:
Comedian
Sarah Silverman
will appear in an episode in the end of the season.
TVLine.com
is reporting that she'll play Stephanie, the owner of a Match.com type website, only it's for people wanting to cheat on their significant others. Isn't that heartwarming? Lockhart has to defend her in a civil case after a cheating husband is found dead, and the plaintiff is blaming Stephanie.
Mad Men:
Show runner
Matt Weiner
released a statement to
Mad Men
fansite
Basket of Kisses
about the recent drama surrounding the show's renewal. He tells fans he is "fighting for the show," and clears up the details of his paycheck and cast firings, among other things. OK, now that that's all cleared up (right?), we can move on to guessing which year we'll land in when
Mad Men
returns in 2012. Will we be in 1968 already? Because that was a groovy year...
VIDEO: Chris Colfer Spills on Glee Kiss