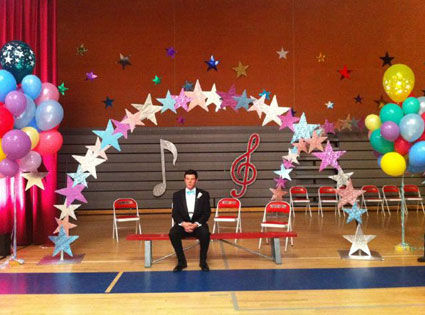 twitter.com
Oh, these kids today with their Twitters and their Facetubes and their total lack of common sense!
A Twitter-enabled
Glee
extra went on a spree Saturday night, revealing the identity of
Glee
's prom king and queen (and quite a bit more) and catching the attention of
Glee
boss
Brad Falchuk
, who publicly took her to task for her big mouth.
So which names did she name, and what does it mean for the show? (Do not read if you don't want to know!)
MORE: Michelle Forbes + The Killing = Inevitable Emmy
Nicole Crowther
(a name that shall live in infamy forever?), who's become known as a good
Glee
spoiler source amongst connoisseurs of such things, posted a
series of answers
to fan questions that included the quasi-coded message, "K is PQ and Ka is PK." Translation: Kurt (
Chris Colfer
) is prom queen and Karofsky (
Max Adler
) is prom king.
For his part, Falchuk more or less told Crowther
via Twitter
that she'd never work in this town again, saying, "hope you're qualified to do something besides work in entertainment...Who are you to spoil something talented people have spent months to create?"
Glee
executive producer
Ryan Murphy
told us
earlier this year
, "I love the idea of Kurt being prom king." Although New Directions diva Quinn (
Dianna Agron
) has been scheming to get the tiara all year, fans had been hoping that Kurt would take the title in the company of his dreamboat boyfriend Blaine (
Darren Criss
). Apparently the student body of McKinley saw fit to pair him with closeted gay bully Karofsky instead. Charming.
Fox has not responded to a request for comment on rumors that the show will reshoot the prom scenes to paper over the leak.
Anybody else just feel icky right now? Let's hug it out in the comments:
WATCH THIS:
Ryan Seacrest sits down one-on-one with Randy Jackson