The last link to success is now gone.
Tiger Woods has fired caddie Steve Williams, who was on his bag for 13 major titles, 63 PGA Tour wins, the remarkable 2000 season, the Tiger Slam, and the riveting playoff victory overRocco Mediate at the 2008 U.S. Open.
[+] Enlarge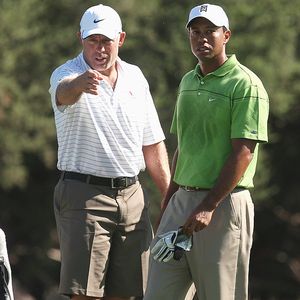 Quinn Rooney/Getty ImagesWill Tiger's luck change now that Steve Williams is no longer his caddie?
He's parted ways with two remarkably successful swing coaches in Butch Harmon and Hank Haney. He's divorced from his wife, Elin. He ditched a putter that helped him earn more than $100 million. He's been unable to regain his health.
And he's lost the aura that made him the greatest golfer of his generation, perhaps of all time.
But he still had Stevie.
There were many who didn't care much for Williams, who barged through galleries with the bag on his shoulder, seemingly determined to mow down anyone in his way. He did not suffer fools -- nor photographers, reporters or spectators.
But he was doing the job he was asked to do and was loyal to one man, Woods, anyone else be damned. Say what you want about him, but Williams' reputation as a caddie is impeccable, and Woods credited him several times for helping him through some tough spots.
One notable example came on the 72nd hole of the 2008 U.S. Open at Torrey Pines, where Williams talked Woods into hitting a sand wedge from the rough -- not the pitching wedge Woods wanted -- knowing his boss would be pumped up, the spin generated from the shot helping him hit it closer to the hole. You know the rest. Tiger holed the birdie putt to force the playoff he won over Mediate the next day.
"That was the most notable example,'' said Haney, who was Woods' coach for six major titles but left him following the Players Championship in 2010. "There were numerous times, literally in every tournament, where a caddie has an opportunity to help influence a player's decision. In my observation, there was an inordinate amount of times where Steve Williams would influence Tiger in a positive direction.
But Woods hasn't hit a shot in competition since May 12, when he withdrew after nine holes of the Players Championship with knee and Achilles injuries that have kept him from playing the last two majors. When he does return, doesn't he want one constant by his side, the rock who has been there for him through so many good times in the past?
Woods and Williams were in each other's weddings, and they became good friends, although Williams vehemently has denied he had any knowledge of the extra-marital affairs that led to a scandal from which Woods has yet to recover.
Out of respect for Scott, for whom Williams would be working at the Open Championship, Williams requested that the news be kept quiet to avoid distraction.
Although you can surmise that Williams was paid handsomely throughout his tenure with Woods given the amount of prize money Woods has earned, he apparently was not receiving any salary while Woods did not play. And there were some significant absences, including more than eight months following 2008 knee surgery, the five months away last year while Woods dealt with his personal issues, and this year, which has seen Woods play in just seven tournaments.
Williams, who lives in New Zealand, had traveled to the United States in advance of the U.S. Open with every intention of caddying for Woods at Congressional.
Woods never disclosed until after Williams arrived in the country that he planned to skip the tournament due to his injuries. That's when Scott -- an Australian who had parted with his long-time caddie, Tony Navarro, following a runner-up finish at the Masters -- reached out to Williams.
They knew each other well from years together on tour, and Williams sought permission from Woods. Although Tiger gave his blessing, he apparently was not thrilled with the arrangement. Given that nothing has changed golf-wise for Woods since he tied for fourth at the Masters and withdrew from the Players, you can surmise that Williams was ultimately doomed by his desire to work in Woods' absence.
"It's been great having him on the bag for a couple of weeks so far,'' Scott told ESPN.com's Gene Wojciechowski last week at Royal St. George's. "I feel like I've learned a couple of things, and it's been great while I'm in between guys. So this is absolutely a bonus for me.''
Now it becomes permanent, which is Scott's gain as he goes in search of his first major title and further success.
Or he could go to longtime friend Bryon Bell, who has caddied for Woods on occasion when former caddie Mike "Fluff'' Cowen or Williams were not available. Bell now heads Woods' design firm.
"I know the caddie doesn't hit any shots, but to think that a caddie doesn't matter is just not accurate,'' Haney said. "If it is, then these players who make a lot of money and win a lot of tournaments could find anybody out there to carry their bag. So obviously they think it matters.''
Of course it matters. That is why Woods sought stability for all these years.
Now, when one would think he needs it the most, a final bridge to the glory days has been breached.