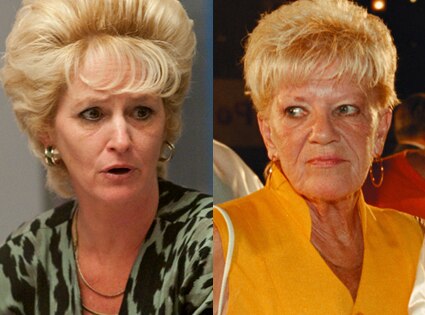 Paramount Pictures; AP Photo/The Lowell Sun, Julia Malakie
Alice Ward
was a fighter in her own right.
The tough-talking mother of nine, embodied so memorably by Oscar winner
Melissa Leo
in the boxing drama
The Fighter
, died Wednesday, a day after being taken off life support at a Boston hospital. She was 79 and had been in ill health for some time.
Both Leo and fellow awards-season dominator
Christian Bale
gave multiple shout-outs to the ailing Alice in their acceptance speeches, with Bale revealing during the Critics Choice Awards that Ward, who was hospitalized at the time, had died for 30 minutes.
MORE: Melissa Leo talks Oscar speech F-bomb
And Bale was barely exaggerating! While in the ICU in January, she did indeed go into cardiac arrest and stop breathing for 30 minutes.
"That is one tough cookie," Bale said.
Alice was mother to boxer
Mickey Ward
and his trainer half-brother,
Dicky Eklund
, as well as seven daughters—all of whom were portrayed by Massachusetts-born nonactresses (including
Conan O'Brien
's sister!) in the film.
She is survived by all of her children. No funeral plans have been announced yet.
GALLERY: Celebrity Deaths in 2011