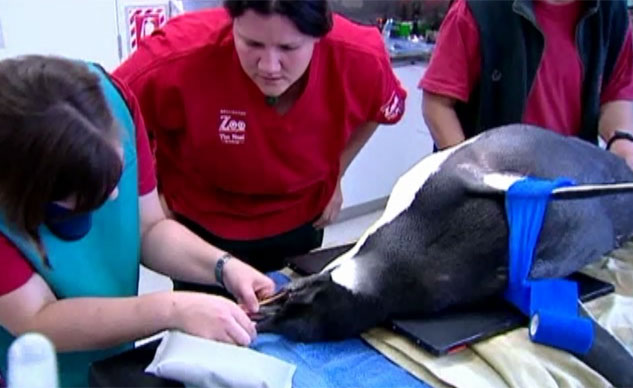 WELLINGTON, NEW ZEALAND (TVNZ/CNN) - An emperor penguin named "Happy Feet," that got lost and landed thousands of miles away from the Antarctic in New Zealand, is critical after a second operation to remove sand from his system.
The penguin was first spied on Peka Peka Beach on Monday by resident Chris Wilton after it swam 4,000 kilometers, or about 2,485 miles, from Antarctica.
Though the penguin appeared lively, four days of eating sand and sticks caused his condition to deteriorate.
He was lethargic, occasionally trying to spit sand, and about midday Te Papa and Conservation Department officials whisked him to the zoo in a chiller.
Vet science manager Lisa Argilla assessed the almost 60-pound bird as dehydrated, stressed, suffering from heat exhaustion and struggling to swallow.
But, she said, he was still feisty enough to kick and struggle as she sedated him.
Penguins in the Antarctic eat ice when trying to cool down, and he was trying to do the same with sand, Te Papa terrestrial vertebrate curator Colin Miskelly said.
Last night he underwent a four-hour operation to clear his airway and this morning he went under again as vets tried to clear his stomach of sand.
X-rays have shown there is still sand in the bird's stomach and he will need a third operation.
At the zoo's operating theatre last night, a captivated crowd of about 50 watched through glass as vets worked quickly, discussing where best to insert a catheter and squeezing antibiotic ointment into his sand-filled, ulcer-covered eyes.
Gently, Argilla began to squirt water down his throat, and moments later sand began cascading into a bucket.
His long-term future remains unclear, with DOC's Peter Simpson saying he will be in discussions with penguin experts and other parties.
"We have a dilemma. There is no transport to Antarctica this time of year… we'll just have to take it day by day," he said.
The last known emperor penguin to arrive on New Zealand shores was at Southland's Oreti Beach in 1967, and it was released into Foveaux Strait.